The Highclere Show welcomed in hundreds of happy show-goers over the weekend, bringing lots of sunshine, a programme full of family-inspired entertainment, plenty of sporting qualifiers plus a host of country activities and shopping opportunities that everyone just loved!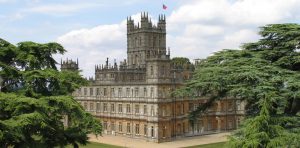 Set in the glorious grounds of Highclere Castle, the event was very much welcomed back to the grounds, with visitors enjoying the celebratory atmosphere. Not only were visitors able to catch all the fun of the fair, the Castle itself was also a sight to behold with many in awe of the stunning backdrop, all in its full splendour.
With an abundance of performances headlining at the start of the half-term Holiday, families were able to catch some fantastic acts. From the awesome Knights of Middle England, who brought their high-energy hard-hitting stunts to the Main Arena, complete with saddle falls, drags and rearing horses, visitors had a great time watching the medieval jousters in action.
This year also welcomed the arrival of the British Falconry & Raptor Fair to the grounds too. Here enthusiasts were able to watch a full timetable of the country's leading falconers and their beautiful displays of birds.
With so much on the bill this year, visitors of all ages had plenty to keep them entertained. From the superb Food Village and Chefs Demo Area featuring lots of local chefs and home-made produce, to all of the sporting qualifiers Highclere hosted, including the BASC Gundog Scurries, BASC Clay Shooting competitions and Terrier and Lurcher events, there was a bit of something for everyone!
Organiser of the Highclere Show, Jerome Roberts, was overjoyed by the weekend's turnout: "What a great weekend it's been at Highclere! We're thrilled so many of you celebrated with us and got involved in the amazing features and performances, it's been fantastic to see so many of you getting involved and enjoying the celebratory atmosphere. From the incredible Main Arena performances to the more hands on activities over at the Kids Zone and the British Falconry & Raptor Fair, hundreds of you got involved, joined in the fun and took away some fantastic memories. We thank each and every one of you who came and celebrated with us at the weekend and we can't wait to be bring the event back to Highclere again next year!"
For all of the latest news and results from all of the competitions from this year's Highclere Show, please check our news section as well as our Facebook page for more information.
Spring into action!