This May half-term, the Highclere Show welcomes some exceptional local food and fresh produce to its grounds from some first-class sellers… and it's a must for foodies everywhere!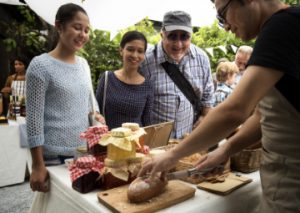 Taking place over 28th & 29th May 2022, visitors will be able to sample some gorgeous culinary delights. From local butchers and cheese manufacturers to bakers and wine merchants, Highclere has a variety of foods and drinks for all to try. Whilst indulging in some tasty countryside produce, visitors will also get the chance to stock up on delicious delicacies all in one place!
As well as lots of foodstuffs, there is also the amazing Chefs Demo Arena too. Perfect for those who like to cook up a storm, the cookery demonstrations will take place across the weekend and are a great place to pick up some expert tips from those in the know!
As well as award-winning local chefs, visitors can also enjoy the many stalls selling lots of high-quality, appetising foodstuffs. Click here to see who we've got coming to this year's show.
From gorgeous home-made pies to award-winning cheeses, foodies can enjoy everything from local wines, liqueurs, as well as stock up on all the delicious treats before heading home, there really is a huge array of food and drinks stores to check out.
It's easy to book tickets to this May's Highclere Show, and by booking in advance visitors can save on the pounds too. With money to be saved, visitors can also avoid the lengthy ticket queues by going straight through to the checking gate when arriving at the show ground. Click here to book your tickets to this May's countryside showcase.
If you're on the lookout for something different to entertain the family over the May half-term holiday, browse this website and discover everything we've got in store.
We can't wait to welcome you all in!
Spring into action!